Smoothies are a godsend. The Almighty heard our cries of despair and sent smoothies to help us lowlife get control of our life and point it in the right direction – towards health and wellness. Smoothies are not only nutritious but with the right ingredient, it could even help us shed a few pounds.
Having been on the smoothie path for a number of years, I consider myself a connoisseur of the sort. I've listed below my top 3 weight loss smoothies I swear by.
Pumpkin PowerHouse
High in protein, low in carbs, and perfect for the fall season, the pumpkin powerhouse smoothie is a sure-fire way to shed the pounds and prepare the body for the feast the holiday season brings.
Besides protein, this smoothie is rich in iron, vitamin A, and potassium. It is relatively easy to make, something any beginner can whip out in an instant every morning before heading to work or right before going to the gym. And because it has more nutrition minus the carbs and sugar, it can serve as the perfect meal or snack that's totally filling. A couple of weeks of drinking pumpkin powerhouse smoothie, coupled with regular exercise, and you'll begin to see a slow yet steady decline in your bathroom scale.
Looking through online, there are a lot of versions of this smoothie but they all share a common ingredient. You guessed it – pumpkin! And if you can get all other ingredients as organic as possible, that would be best too.
My version of this smoothie requires only very little ingredient:
1/2 canned pure pumpkin that I froze in an ice cube tray the night before;
7 oz of 2% Greek-style yogurt;
half a cup of water;
1/4 avocado, fresh;
2 tablespoon flaxseed, ground;
1 tablespoon maple syrup; and,
1/2 teaspoon pumpkin pie spice.
And I just put all these in a blender and blend till smooth. It's that easy. Last time I timed myself preparing this smoothie it didn't take me more than 10 minutes.
In the 3 months that I was drinking the pumpkin powerhouse smoothie, and coupled with my daily yoga and thrice-weekly run, I lost about 12 pounds, which I think is a healthy amount of weight loss. I imagine for those with even more commitment than I have could manage to lose close to 20 lbs easily.
Kale Green Sunrise Smoothie
I had a phase in my life I would call my green phase. I consumed everything green, from going vegetarian on my diet, looking up on how to buy weed online, to drinking green smoothies every day.I have since moved past that phase but one thing remained with me to this day, my love of green smoothies.
As an avid fan of smoothie, one of my top favorites has always been green smoothies which I highly recommend on days when you feel a little heavier and want to shed a few pounds. Because green smoothies are comprised mostly of fruits, each serving is rich in fiber which is not only good for healthy digestion but it makes you feel fuller and less prone to cravings.
I call my version of green smoothie as kale sunrise because I find it the perfect way to start the day instead of my regular coffee. I make one right before work most mornings and on weekends I make a second serving that I take with me to the gym or on trekking excursions.
Put it all together, you just need these ingredients:
1 1/2 cups coconut water
1 medium banana, ripe
1 large pear, ripe
1 cup pineapple chunks
8 medium-size kale leaves
1 cup ice
1 orange, peeled with seeds removed
For blending, here are a couple of tips based on the speed of your blender.
If you're blending at high speed, put all ingredients in the same order as listed. Start low, slowly turning to higher speeds until totally blended.
If, like me, you use a regular blender, first, puree the kale and coconut water before adding all the other ingredients. Blend until smooth.
Losing weight has never been as refreshing and delicious when you have the kale sunrise green smoothie by your side.
Triple Berry Protein Smoothie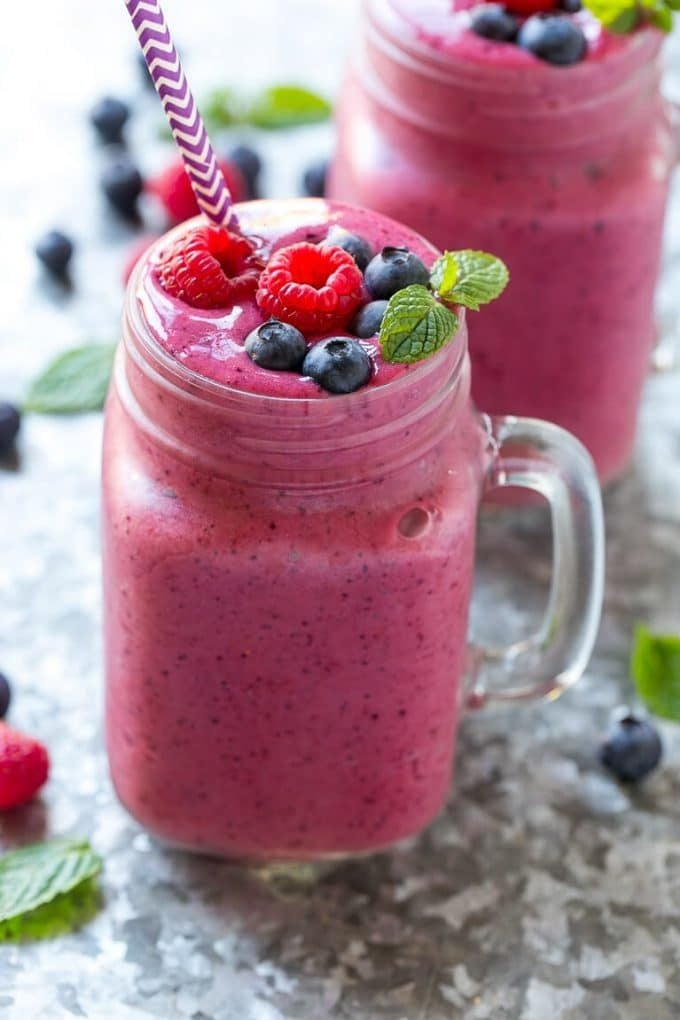 Do you know what I hate about any weight loss plan? They never tell you just how much your body resists your efforts of getting rid of its excess fat. It really likes to hold on to the pounds and it will do what it can to make sure your plan fails. Case in point, the cravings to consume junk every step of your weight loss journey has broken stronger people and make them lose sight of their goal.
Well, I think I have the perfect solution for that – the triple berry protein smoothie. It's packed with enough ingredients to satiate your body even of its strongest cravings. Nutritious and delicious, it will make you forget about visiting the vending machine for a sugary snack in the middle of the day.
While most people like making this smoothie to jumpstart their day, I make mine in the middle of the night. Yes, you heard me, I like drinking filling and nutritious drinks in the middle of the night. Why? Because my crazy body likes midnight snacks and wakes me up at 1 or 2 in the morning demanding I eat something or it'll waste away.
On such occasions, I have the ingredients for this smoothie ready in the fridge.
mixed berries, ones I can get at my local grocery store that are bagged and frozen
1 medium ripe banana
almond milk
vanilla protein powder
chia seeds
And because I'm consuming this in the middle of the night, I only make about half a cup of the smoothie as I find it harder to fall back asleep with a too-full stomach. I blend all these ingredients until smooth and consume it while browsing through my phone. Half an hour later, I'm fast asleep, fully satiated, and no guilt of eating junk in the middle of the night.